Celebrate Ontario Agriculture Week
September 23, 2022 | Amber Anderson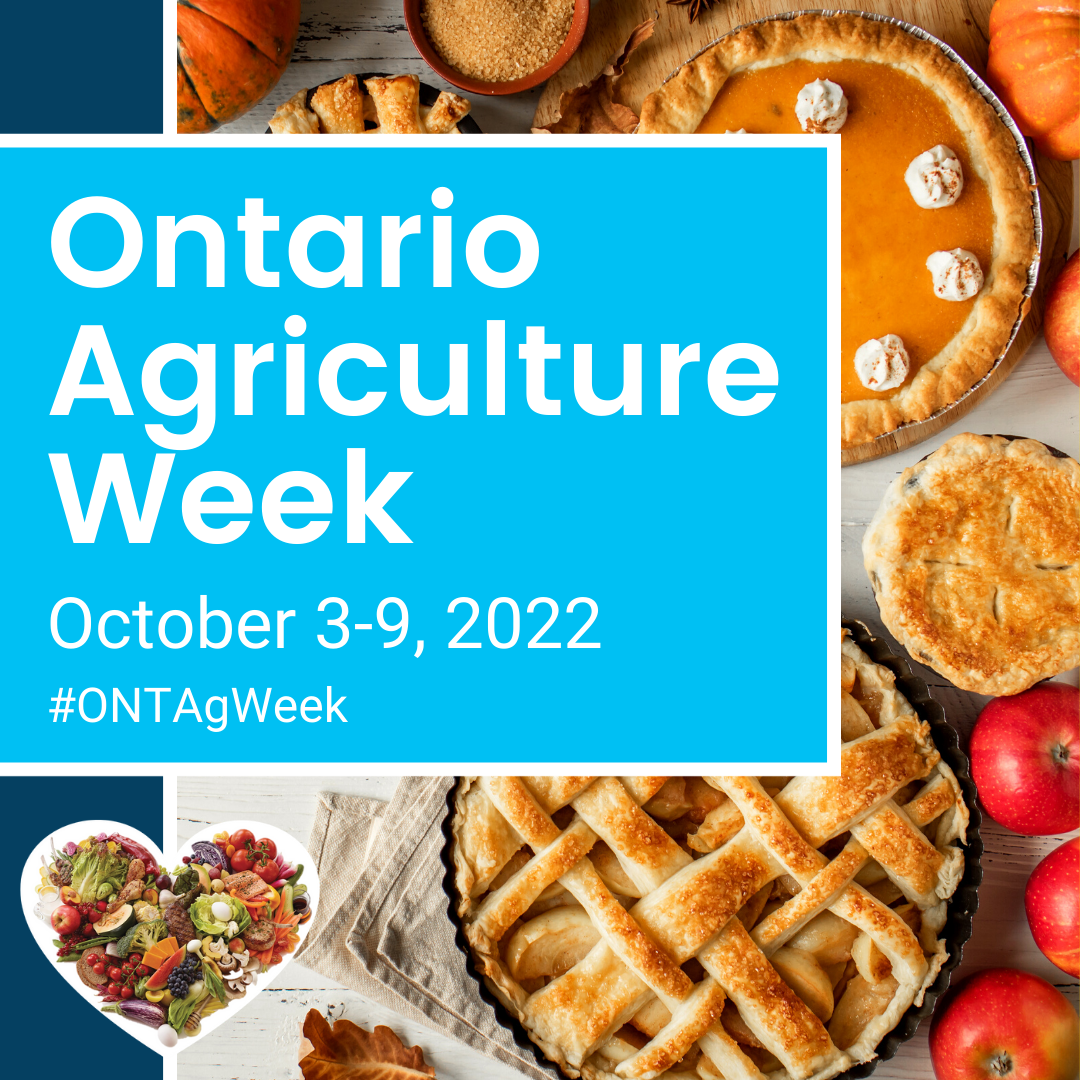 As September rolls forward, farmers across the province are looking forward to Ontario Agriculture Week. First proclaimed by the government of Ontario in legislation in 1998, the week is intended to "recognize and acknowledge the ongoing contribution by Ontario farmers to the quality of life of all our citizens."
In 2022, Ontario Agriculture Week will take place October 3 to 9, and is an annual opportunity for the province to celebrate the importance of agriculture in our province in the week leading up to Thanksgiving, a holiday closely associated with food in Canada.
Ontario Agriculture Week is dedicated to celebrating the abundance of food our farmers produce, the Ontarians the industry employs, the rural communities it supports and the economic engine that farmers fuel. Ontario agriculture is also a vital source of safe, healthy food that we can all be proud to put on the table for our families. Whether you are making a full turkey dinner or planning for your Halloween pumpkins, selecting local food, fibre, and flowers supports agriculture and its related industries in Ontario.
There are many ways to celebrate Ontario Agriculture Week this year.
First, choose Ontario-grown when you shop. Locally grown food isn't only available at farmers markets and farm stands; you can find Ontario produce, eggs, dairy, meat, and processed food items in your local grocery stores.
As we return to in-person events, Farm & Food Care Ontario (FFCO) is hosting our first in-person Ontario Agriculture Week events since 2019.
On Saturday, October 8, FFCO will be partnering with the Halton Agricultural Society to host Breakfast from the Farm at the Milton fairgrounds. This event provides an opportunity for urban and suburban Ontarians to appreciate agriculture in the province by touring livestock and farm equipment displays with the opportunity to engage and talk to farmers about where their food comes from.
There are also many opportunities to celebrate Ontario Agriculture Week through online experiences.
FFCO will be hosting live-streamed farm tours offering the opportunity to ask farmers questions in real-time. These tours will be posted on FFCO's social media accounts (@FarmFoodCareON) and are organized in partnership with AgScape. This content is an excellent resource for students of all ages with many schools expected to be joining the events.
If you want to celebrate on your own social media platforms, FFCO also has downloadable graphics that you can use to talk about why Ontario agriculture is important in your life. They can be found at: https://www.farmfoodcareon.org/download/ontario-agriculture-week-2022/ Use the hashtag #loveONTfood to join the conversation online.
Any way you take the time during Ontario Agriculture Week to appreciate the bounty of our province this fall is well worth the effort.
Information about all of our upcoming events is available at FarmFoodCareON.org.
---
Amber Anderson is Communications Manager for Farm & Food Care Ontario. The CFFO Commentary represents the opinions of the writer and does not necessarily represent CFFO policy. The CFFO Commentary is heard weekly on CFCO Chatham, CKXS Chatham, CKNX Wingham, and CHLP Listowel.