CFFO Community Donates at Record Levels to Help End Hunger
February 2, 2023 | Winnipeg, MB/Cambridge, ON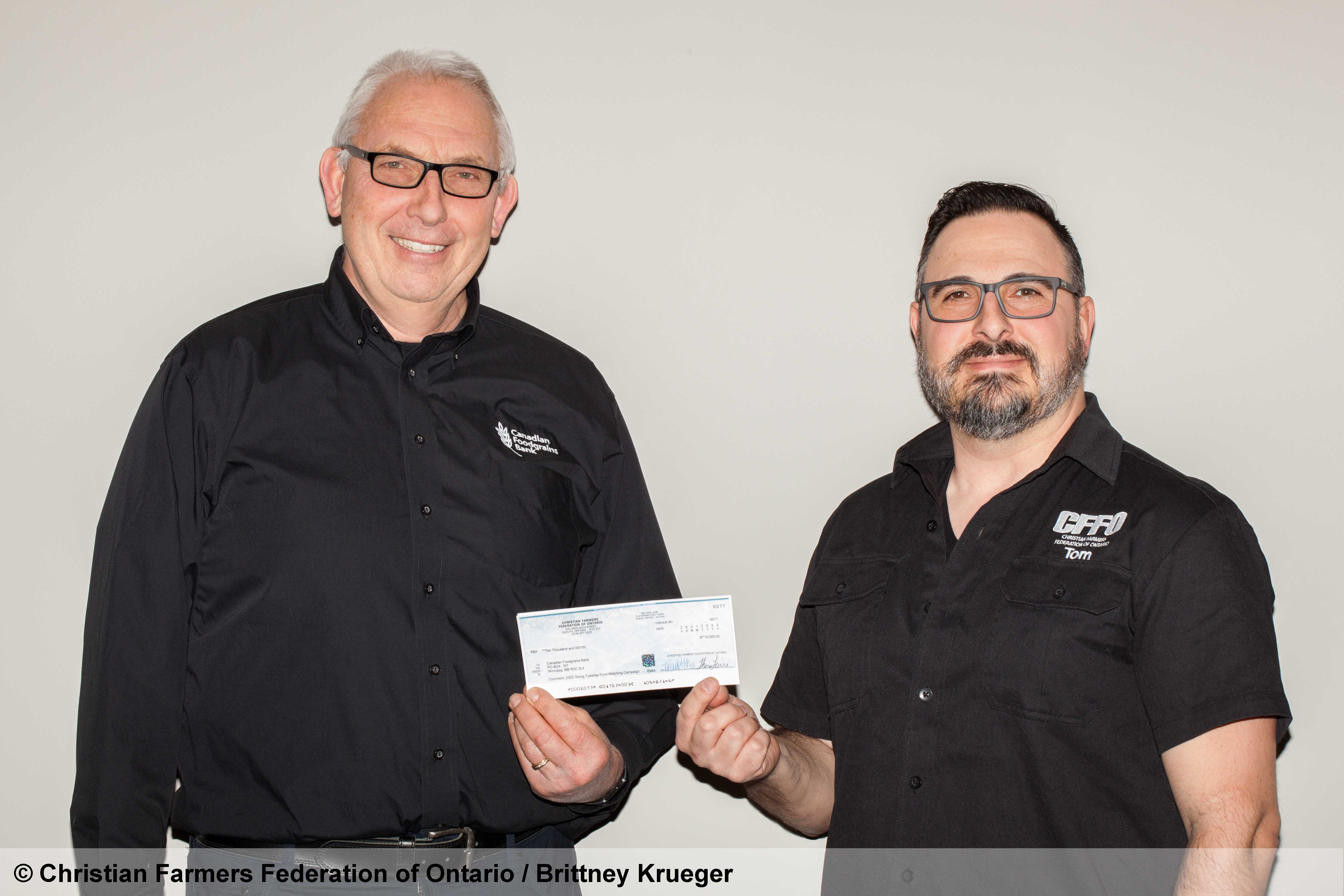 Farmers around the world who are struggling to grow enough crops to support their families, and families affected by severe hunger are just some of the people who will benefit from the successful Christmas giving partnership between the Christian Farmers Federation of Ontario (CFFO) and Canadian Foodgrains Bank.
"We are delighted that once again, Ontario farmers have chosen to share of their abundance with others around the world," says Foodgrains Bank Executive Director Andy Harrington, noting this is the second year for the partnership. "I'm so very grateful."
Between Nov. 29 and Dec. 29, 2022, donations made to the Foodgrains Bank as part of the CFFO Giving Tuesday campaign were matched by the Federation dollar for dollar, up to $10,000. Altogether, $45,850 was raised.
For the CFFO, providing members with a way to make a difference in the world via the Foodgrains Bank was a way to allow their members to align their generosity with a cause close to the heart of many within their membership.
CFFO Board of Directors President Ed Scharringa says, "I truly feel that this partnership between CFFO and the Canadian Foodgrains Bank is one of the best ways we as Christian farmers can be charitable, and I'm glad to see that our community feels the same way. The Board of Directors and I are once again so thankful for the support of each donor this giving season!"
With as many as 828 million people experiencing hunger around the world right now, this campaign comes at an especially important time. All funds raised will provide emergency food for people affected by crises like violent conflict or natural disaster, or supporting families with agricultural and income programs to help lift them out of poverty in the longer-term.
"Each gift from a member of the Christian Farmers Federation, no matter the amount, means the world," adds Harrington. "Here at the Foodgrains Bank, we believe it's God's desire that no person should go hungry, and we're pleased to have the support of the CFFO as they come alongside us in sharing this vision."
Pictured above: CFFO General Manager Tom Tavani (right) presented Canadian Foodgrains Bank Ontario & Quebec Regional Representative Henry Reinders (left) with CFFO's $10,000 fund-matching cheque on Feb 1, 2023 at the CFFO Office in Cambridge, ON.
---
For more information or to arrange an interview, please contact:
Email : info@christianfarmers.org
Christina Philips, Communications Manager, Canadian Foodgrains Bank cphilips@foodgrainsbank.ca
About Canadian Foodgrains Bank
Canadian Foodgrains Bank is a partnership of 15 churches and church agencies working together to end hunger. In the 2021-22 budget year, the Foodgrains Bank provided $52.5 million of assistance for 939,447 people in 34 countries. Canadian Foodgrains Bank programs are undertaken with support from the Government of Canada provided through Global Affairs Canada. Assistance from the Foodgrains Bank is provided through its member agencies, which work with local partners in the developing world.
About Christian Farmers Federation of Ontario (CFFO)
The Christian Farmers Federation of Ontario (CFFO) is an Accredited Farm Organization representing the interests of over 4,000 farm families in Ontario who are called to the vocation of farming. CFFO policy promotes economically, socially, and environmentally sustainable farming, advocating that farmers receive fair return for their production and stewardship efforts.