A Natural Fit: Christian Farmers Partners with Foodgrains Bank to End Hunger
November 12, 2021 | Winnipeg, MB/Guelph, ON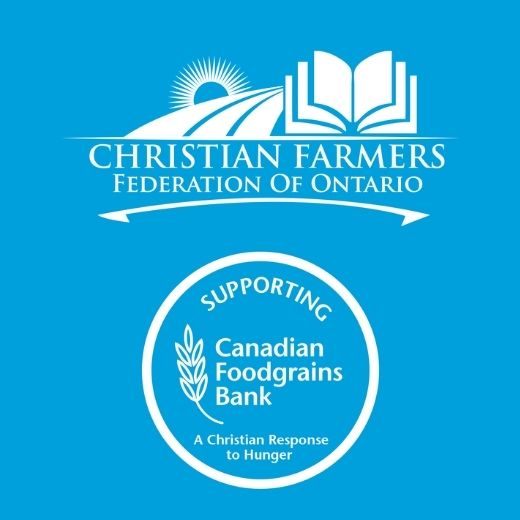 This giving season, Christian Farmers Federation of Ontario (CFFO) will offer supporters a one-to-one fund match to celebrate a new partnership with Canadian Foodgrains Bank.
It is estimated that around 768 million people are facing hunger worldwide. That's more than 20 times the population of Canada – but this new partnership will help families facing hunger to thrive.
From November 15 to December 15, any donations made to the Foodgrains Bank as part of the Giving Tuesday campaign will be matched by CFFO dollar for dollar, up to $10,000.
This funding will help to provide emergency food for families affected by crises like violence or natural disaster, or provide long-term agricultural support to help a family lift themselves out of poverty.
CFFO board president Ed Scharringa says he is excited about providing this opportunity to members.
As the organizations were both founded by Christian farmers in Canada, and share a similar desire to improve food security, Scharringa believes the partnership is a natural fit.
"At CFFO we work to support Ontario farmers. The Foodgrains Bank helps some of the most vulnerable food producers in the world – and we know that our compassionate membership care about global hunger. This partnership is just a natural fit," he says.
For almost 40 years, the Foodgrains Bank has been on a mission to end global hunger. The membership of 15 Canadian church and para-church agencies partner with locally-based agencies to provide programs that are food-focused in over 30 countries.
Foodgrains Bank executive director Andy Harrington says he's confident the same collaborative nature will be reflected in this new partnership with CFFO.
"We're excited to partner with CFFO in working towards our mission of ending world hunger and to kick off this Christmas giving season with such a generous gesture! For many Canadians our Christmas celebration can look like a true feast. This partnership will benefit families in parts of the world where accessing enough food on a daily basis is a challenge and help them to flourish. There's no better gift you could give this Christmas."  
To donate by December 15, visit foodgrainsbank.ca/cffo.
---
About Canadian Foodgrains Bank
Canadian Foodgrains Bank is a partnership of 15 churches and church agencies working together to end hunger. In the 2020-21 budget year, the Foodgrains Bank provided $49 million of assistance for 989,000 people in 33 countries. Canadian Foodgrains Bank programs are undertaken with support from the Government of Canada provided through Global Affairs Canada. Assistance from the Foodgrains Bank is provided through its member agencies, which work with local partners in the developing world. 
About Christian Farmers Federation of Ontario (CFFO)
The Christian Farmers Federation of Ontario (CFFO) is an Accredited Farm Organization representing the interests of over 4,000 farm families in Ontario who are called to the vocation of farming. CFFO policy promotes economically, socially, and environmentally sustainable farming, advocating that farmers receive fair return for their production and stewardship efforts.
For further information:
Brittney Krueger, Marketing & Communications Manager
brittney@christianfarmers.org