Shepherd's Fold Farm
"If you want to farm, just do it. Find a way." That's the advice of Bethanee Jensen, sheep farmer and past CFFO Executive Board Director.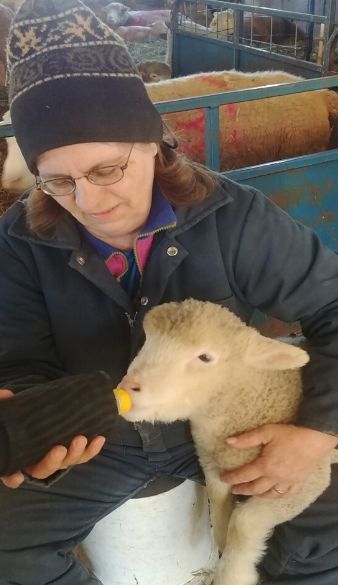 Jensen, who farms on 34 acres near Belgrave, grew up in a farming family and always knew she wanted to be a farmer, too. But as a single woman with no financial support from family, she faced an uphill battle.
Her first step was to become an accountant, which enabled her to earn money toward buying a farm. In 1993, she made her first payment, armed with a full-time job and a flock of 19 purebred Dorset ewes. For nearly a decade, everything Jensen made went into the farm. She was able to make the leap into full-time farming in 2000.
"To my way of thinking, you don't have to own thousands of acres to make a living off a farm," she says. "You just have to be creative."
Jensen's career has been a master class in creativity and resourcefulness. As a purebred breeder, most of her stock is sold to fellow sheep producers. But she also has a farmgate trade, selling freezer lamb, sheep skins, and wool blankets.
"I slowly built up," she explains. "The biggest thing is to create a good reputation. When you sell good quality products, then word of mouth builds your business."
While growing her main business, Jensen also found other ways to pay the bills. For a time, she kept 65 doe rabbits (which translated into anywhere from six to seven hundred rabbits at any one time). This extra source of income worked well because rabbits took up barn space but not fields, which she needed for her flock. She's also kept chickens, selling both eggs and meat birds. "You're never going to make a fortune with a few birds," she admits, "but you make every dollar count."
Before buying the farm, Jensen took courses in sheep management and decided on the Dorset breed, which would allow her to do accelerated lambing. She purchased her first flock from the best breeder she could find in Ontario.
"I figured if I bought the best, then there was room for error," she laughs.
Jensen never intended to become a purebred breeder herself, but she was so impressed with the flock she saw, that by the time she brought her first sheep home, she knew she wanted to become a purebred breeder as well.
At her peak, Jensen had a flock of 200 breeding ewes, and she has won several awards for both EDP growth traits and maternal traits.
Today, Jensen is semi-retired, with about 65 ewes. "I've never thought about packing it in. My husband [Pierre] would love me to," she laughs. "We've settled on down-sizing instead of leaving the farm."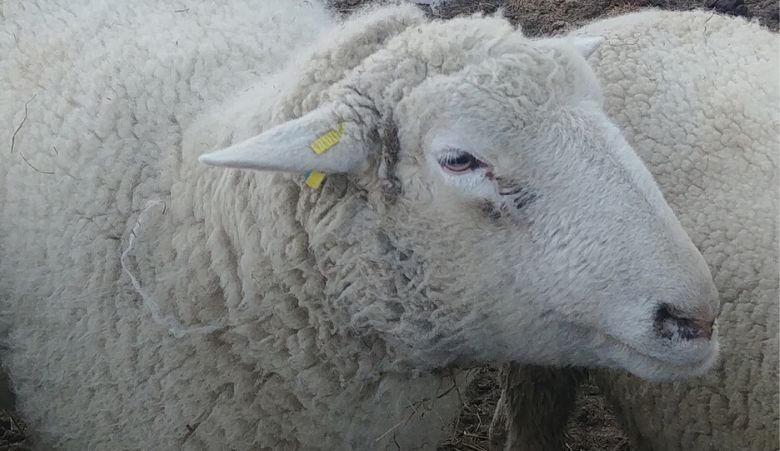 It's easy to understand how hard it would be to retire from a career that was so hard-won. Because she was a single, young woman at the time she first went into farming, banks refused to give her a mortgage. Friends and family laughed at her plans, doubting she could do it alone.
"I faced emotional and financial and even physical struggles along the way because I'm not a big person. I did it all on my own," Jensen reflects. "I'm quite proud of it."
Jensen also points to neighbours and friends who helped her along the way. She, in turn, has helped others. Her long experience in sheep farming is valuable. The average person stays in the industry for about three years.
"You have to have the patience to work calmly with sheep to be able to handle them," she explains. "You also face complications with disease and with birthing."
The market will bear more sheep farming in Ontario, but Jensen warns anyone interested that you need to do your research first, and make sure you aren't buying someone else's problem flock. It's easy to get in, but problems can mount quickly.
"If you have the temperament and healthy animals, you can stay in sheep farming for a long time, but if not, a year is more than enough!"
Jensen joined the CFFO when stable funding came in in 1994. She chose it because of its Christian values. She was eventually asked to run for the board in 2011 and readily agreed. "I was told it was just one day a month," she laughs.
Jensen served on the Board as director and treasurer for six years, the maximum number of years directors can serve continuously, according to CFFO bylaws. But she was quickly scooped up this spring by her CFA district board in Huron.
When asked about the reasons she's chosen to serve on the CFFO board for so long, she points to two things: "I think the ethics is something that I really appreciate—the fact that it's faith-based. Also, the fact that stewardship of the land is high priority." As a small-size farm holder, Jensen's insight has been invaluable at the board table over the years, and CFFO thanks her for her service.
Written for Christian Farmers Federation of Ontario, 2018.