Feeding a Hungry World: Join Our Giving Tuesday Campaign
November 19, 2021 | Marie Versteeg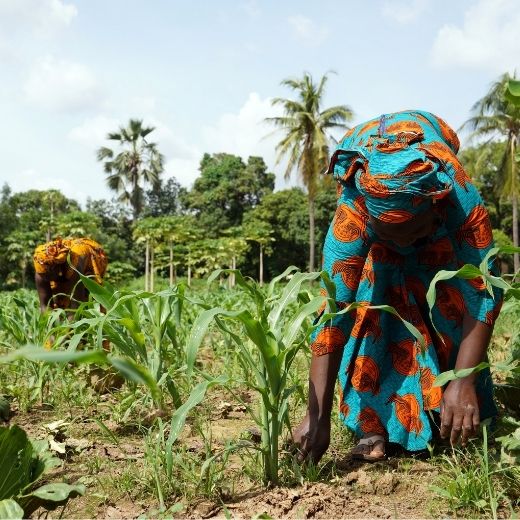 This week, the CFFO launched our new partnership with Canadian Foodgrains Bank, a Christian organization working to end global hunger. To celebrate, we're kicking off the giving season with a one-to-one matching donation campaign.
For one month only, until December 15, we are matching donations to the Foodgrains Bank dollar for dollar, up to $10,000, through the CFFO Giving Tuesday Campaign.
Canadian Foodgrains Bank provides emergency food assistance to communities in developing countries that have been struck by disasters like conflict, flooding, earthquakes and famine. It also serves families facing long-term hunger by providing development programs like agricultural training for small-scale farmers and co-operative groups to strengthen local markets and food systems.
Today, Foodgrains Bank is a partnership of 15 Canadian churches and church-based agencies, serving in over 30 countries around the world. According to their 2021 Annual Report, Foodgrains Bank provided $49 million in aid to 989,000 people living in poverty.
But it all began in the 1970s when a group of Christian farmers banded together to donate grains overseas to help countries facing food crises. Farmers across Canada continue the tradition by participating in growing projects. You've almost certainly seen signs for growing projects dotted all over rural Ontario.
Foodgrains Bank was just recently named one of Canada's top ten charities for the fourth year in a row by Charity Intelligence Canada. This annual list examines impact per dollar donated to an organization.
These are just some of the reasons we're proud to be partnering with Canadian Foodgrains Bank. As two organizations founded by Canadian Christian farmers, we see our partnership as a natural fit. As organizations, we differ in scope: CFFO focuses on issues in Ontario, while Foodgrains Bank serves developing nations. But we share a vision of equitable food systems that leave no one behind. In short, we are Christians who care about farming and feeding a hungry world.
That's why we're inviting CFFO members and the wider agricultural community to join us in supporting the work of our brothers and sisters at Canadian Foodgrains Bank.
Our matching donation campaign is just one way Ontario's generous farming community can give back. You can help us reach our goal by donating online at www.foodgrainsbank.ca/CFFO.
             Feed the hungry,
                 and help those in trouble.
             Then your light will shine out from the darkness,
                 and the darkness around you will be as bright as noon. (Isaiah 58:10, NLT)
---
Marie Versteeg is Communications Manager for the Christian Farmers Federation of Ontario. The CFFO Commentary represents the opinions of the writer and does not necessarily represent CFFO policy. The CFFO Commentary is heard weekly on CFCO Chatham, CKXS Chatham, CKNX Wingham, and CHLP Listowel.